Khaldon Construction Company (KCC)
Khaldon Construction Company (KCC)
Khaldon Construction Company (KCC) is a private construction company based in Sana'a – Republic of Yemen with vast experience and excellent reputation in the construction industry and new energy (Solar and Wind Turbine) with a highly motivated and dedicated team.
Khaldon Construction employees and subcontractors have extensive experience in the construction of roads, construction and delivery of turnkey buildings, prefabricated housing including preparation, installation of various electrical generators, solar and wind turbines etc. The one common goal of our company is the satisfaction of our clients. Our employees have the loyalty and qualification required to achieve successful outcomes on all of our projects at difficult situations even under the current political conflict and lack of security in Yemen.
The company has the technical ability to handle difficult and challenging projects within Yemen. Our local workforces' ability to accomplish project completion and accuracy on time and per the scope of work is the key to our success in the field.
We recruit local workers in addition to our permanent laborers in any area where we have a new project in order to build good and strong relationships with the local community and we strive to maintain the relationship every day. This strategy helps us to complete work to a very satisfactory manner and without any delay because the local knowledge of the local workers streamlines our day-to-day operations and helps to overcome any obstacles.
Khaldon Construction Team
Khaldon Construction team has wide experience with Engineering, Procurement, and Construction.  From a technical perspective, our construction engineers have good knowledge about everything that is happening on site. They have good knowledge to adapt to any emergency issues and solve problems where needed. They have:
The ability to understand and apply complex technical specifications, standards, and procedures
Knowledge of steel construction connection methods
Knowledge of various methods of concrete construction
Knowledge of electrical work and installations to any standard required
Knowledge of various mechanical installation and repair (pumps, valves, piping)
Ability to prepare and install various steel tanks for (water, vehicles, generators, and aviation fuel)


Company Experience
Building Renovation & Demolition
Turnkey Building Construction including supply of furniture
Prefabricated Housing
Building of Military Camps including supply of HESCO & etc.
Helicopters landing zones
Road Construction Asphalt & Gravel
Supply and install of different electric power systems including new energy (solar and wind)
Steel Erection & Fabrication
Khaldon Construction Equipment
Khaldon Construction Equipment was founded with the vision of providing quality equipment to construction and development projects in Yemen and to be part of the success story in building our nation.
Our vast portfolio of vehicles, equipment and machinery includes:
Water tankers, lorry cranes and lorries, loaders, forklifts, pick-ups, dewatering pumps and compactors, cement mixers, rollers, welding machines, portable generators, service & maintenance vehicles.
Some of the services we provide to our clients:
Lease of various vehicles
Lease of heave machinery (Loaders, Forklifts, Lorries, Trailers etc.)
Maintenance of heavy machinery and generators
Furnished accommodation in Sana'a and Aden
HESCO walls
Different types of Vehicle crash barriers.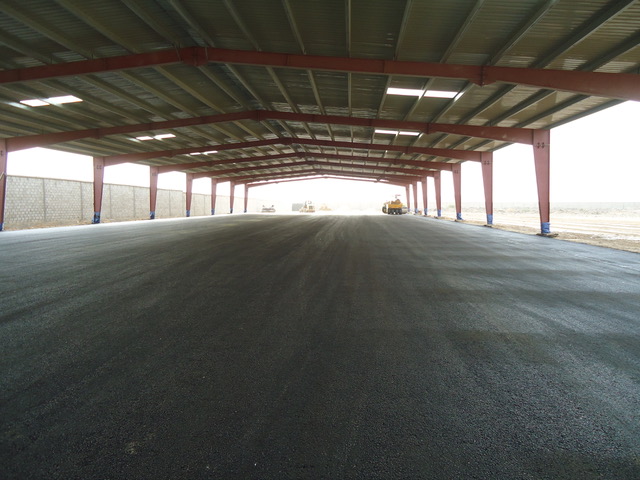 Hangar with asphalt floor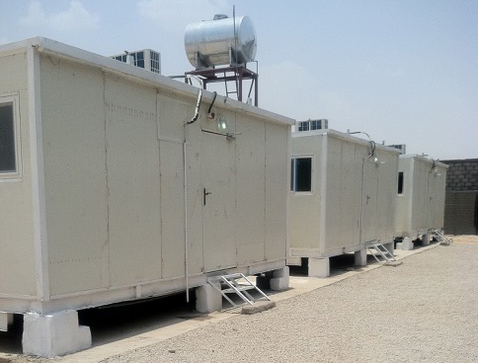 Prefab accommodation shelters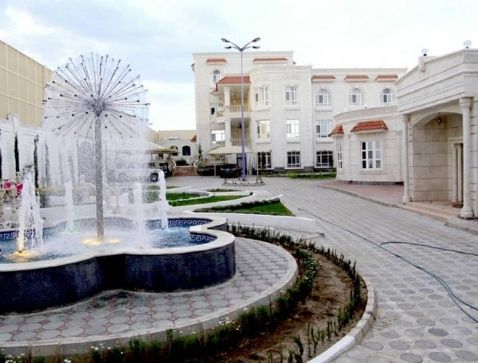 Construction of Private Villa